Get Involved
We Need You! Joining the PTO supports your child, their education, and the community! We are entirely a volunteer organization. There are SO many ways you can help our kids, teachers and community by supporting PTO activities. We promise, there are opportunities for all interests and time commitments. Here is how YOU can get involved:
Join the PTO Board
While every parent and guardian is the P in PTO, when you participate in PTO as a Board Member, you'll be the first to know what's happening around the school. We're looking for people to join the executive committee and help on short projects. There are opportunities for every time commitment and skill set. View open PTO Board positions here>>
Volunteer for the PTO
All parents, guardians and caregivers are welcome to attend any general meeting, and volunteer for any PTO events or activities. You can volunteer to support the Julian PTO by: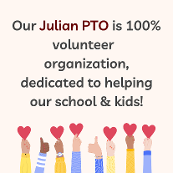 About fingerprinting & background checks for volunteers...
While not everyone entering the school building is required to have fingerprinting, we highly recommend following the fingerprinting/background check to our parent volunteers. Please note, if you had fingerprints done at the D97 elementary school, you do not need to have them done again for Julian.
Here is the D97 sign up for fingerprinting/background checks.
https://www.signupgenius.com/go/10c0c48aaa628aaf8c43-background
Subscribe to our newsletter!
Be sure to subscribe to stay informed on upcoming PTO events, schedules, important dates and programs. We send the newsletter once a week, every Sunday.